Safety Supplies > First Aid
First Aid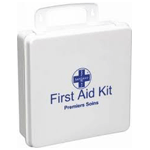 First Aid Kit
For general industrial and office use, up to 5 people. Plastic case contains assorted adhesive bandages and gauze pads, alcohol/antiseptic wipes, burn gel and more. Items are sterile-packaged.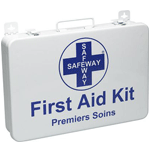 Ontario Level 1 First Aid Kit
Deluxe kit comes in a metal case. Sterile-packaged contents include assorted adhesive bandages, anti-microbial hand wipes, gauze pads, compress bandages and more. Suitable for 5-16 persons.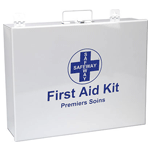 Ontario Level 2 First Aid Kit
Deluxe kit meets Ontario WSIB Level 2 regulations. Metal wall-mount cabinet contains sterile-packaged gauze rolls, compress bandages, First Aid guide and more. Suitable for 16-200 persons. *Refills available for all kits*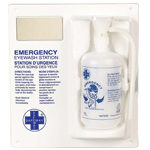 Portable Eye Wash Station
Stand includes eye wash bottle that can be refilled with eye wash solution.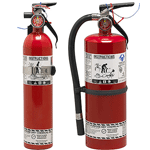 Fire Extinguisher
ABC fire extinguisher works to put out standard, electrical, and liquid/gas fires quickly. Comes in 2.5lb and 5lb sizes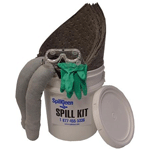 5 Gallon Spill Kit
Use for oil-based spills. Includes 10 sorbent pads, 2 sorbent socks, disposal bag, 1 pair of nitrile gloves and 1 pair of safety goggles