Janitorial Equipment > Brooms & Sweeping
Brooms & Sweeping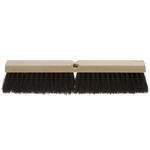 Warehouse Push Brooms
Sturdy wood block with fine, medium or coarse bristles. Available in different sizes, including 14", 18", 24" and 36".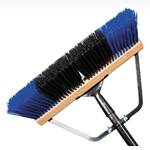 Garage Brooms
Made with stiff plastic bristles for heavy sweeping. Ideal for contractors, landscapers, roofers and more. Comes in 18" and 24" sizes.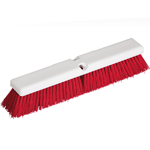 Food Service Brooms
Full acrylic construction with nylon bristles won't absorb moisture, thus discourages bacterial growth. Also suitable for use in healthcare settings. 18" and 24" sizes available.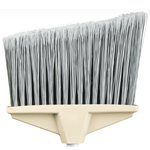 Angle Broom
Broom head has angled poly bristles for cleaning in corners and hard to reach areas. Made of flagged synthetic fiber. Available in different sizes.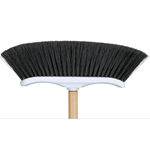 Magnetic Broom
Made with long PVC bristles for easier sweeping. Bristles are flagged to attract dirt and are set in molded plastic. Various types available.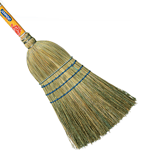 Corn Brooms
Various strengths and sizes available to suit many applications. May be used indoors and outdoors.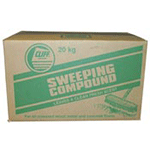 Sweeping Compoound
Sprinkle sweeping compound on floors prior to sweeping to effectively gather up dust and dirt.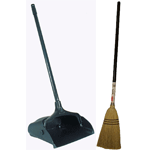 Lobby Dust Pan
Hinged dust pan is attached to a pole, allowing you to sweep up dirt and debris without bending over. Use with a toy broom for easy sweeping.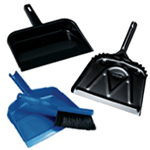 Dust Pan
Heavy duty dust pans for household, commercial and industrial use. Various types available; made of plastic or metal.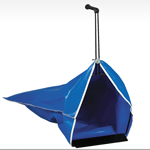 Litter Scoop
Litter scoop consists of a sturdy metal frame with a durable, reusable plastic bag. Handy for collecting litter indoors and outside. Bag and hoop available togetheror separately.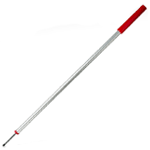 Pick-up Rod
Metal rod with pointed end allows you to pick up rubbish without manual contact with waste. Can be used in conjunction with a litter scoop.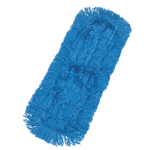 Dust Mop refills
Effectively gather dust from floors. Tie-on style available in 18", 24", 36" and 48" sizes. Cotton or synthetic, electrostatic types in stock.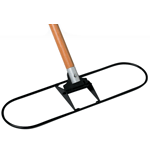 Dust Mop Frame
Use with dust mop refills. Tie-on style available in 18", 24", 36" and 48" sizes. Available alone or with handle.